General Excise Tax Hike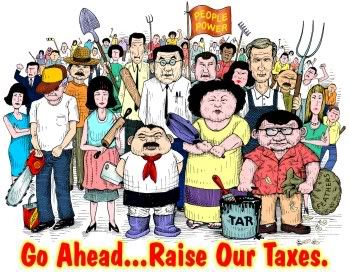 T
oday, the Honolulu City Council is in place to take a final vote on a tax increase that would affect nearly everyone on Oahu. The money would go towards a proposed rail transit project. The one-half percent surcharge on the general excise tax would affect just about every transaction on Oahu. Hawaii already has the overall highest tax burden as well as the cost of living in the nation, and continues to rise with property taxes on commercial and residential properties at record highs. Many are against to having pay more in taxes which will be used to finance for a proposed $2.6 billion new rail system which will only stretch from Kapolei to Iwilei. I also do not support raising taxes to pay for rail. I'm totally against it! Why should I have to pay more taxes when the rail system will not come into the area that I am in? The amount of people it's going to help is very, very little. It's not worth what we're going to be spending. Sure it will help relief some of the Leeward residents whom commute into town but still there are many whom do not commute that distance and have no need for a rail system. In my opinion, O'ahu's roadways will always remain congested as long as people want to drive their cars. If you were to take a drive on the weekends, the traffic congestion is almost the same as if it was on an ordinary working day! A rail system alone won't eliminate traffic.
Gas prices in Hawaii, nationwide hit record high
The average price for a gallon of regular gasoline in Hawaii hit a record high $2.67 Monday. Hawaii had the highest average price in the nation, followed by California, Nevada and Washington state. The national average also hit a record $2.33. Maui had the highest fuel prices in Hawaii at $2.89 a gallon for regular. How much do you pay for gasoline?
Tree House for Sale
alewa house 1
Originally uploaded by miszbabykiss.
There's an Oahu home for sale being advertised as a tree-house; a multi-level, tree-house living in Alewa Heights. It's an interesting and unusual old house that is surrounded by trees, not built on a tree. The roofline peeks out from profuse greenery and has beautiful city & ocean views.
alewa house 2
Originally uploaded by miszbabykiss.
It's obvious why the place is referred to as "the treehouse." There are four levels, stepping up the hillside. It's a 3 bedroom, 2 bath house, built in 1951 which needs some work done and going for sale for $685,000. Would you be interested?
Cardinals Cut Timmy Chang
The Arizona Cardinals today released former University of Hawaii quarterback Timmy Chang. He went un-drafted last April, and signed with the Cards as a free agent the following month. Chang went in as the Arizona's fourth quarterback, But at 6-foot-1, Chang is undersized by N-F-L standards for the position. He was passed over in the draft.
moi spoke out loud on
8/10/2005 11:21:00 AM


[0] told me everything loud and clear
//m.u.s.i.c V.I.D.E.O


I'm Yours by Jason Mraz
//T.W.I.T.T.E.R.I.N.G...
//G.R.A.D.U.A.T.I.O.N
//W.E.L.C.O.M.E
and...I do mean Welcome! Selamat Datang! Aloha! I extend a warm welcome and am glad that you could stop by and read my blog. It simply contains general musings and ramblings about things that concern and/or interest me. So kick back, click away and don't forget...enjoy your visit!


Go Back Home
//W.H.O a.m I?
"So you want to know me? Romantic and logical ~ Loyal and always true ~ Funloving crazy and very quiet when needed ~ Sensible and down to earth...to sum it up, I guess I'm pretty much a "nice girl", hopefully in a good way, who's also a bit of a geek"
Here I am as perfect as I'm ever going to be. You'll see, love me for me. Stick around, I'm not the kind of girl you wanna leave. You'll see, love me for me.


is how I feel now
My Bloginality is ISFP


Name: perisblurbs

Date of Birth: November 5

Birthstone: topaz

"With a birthday on the 5th of the month you are inclined to work well with people and enjoy them. You are talented and versatile, very good at presenting ideas. You may have a tendency to get itchy feet at times and need change and travel. You tend to be very progressive, imaginative and adaptable. Your mind is quick, clever and analytical. A restlessness in your nature may make you a bit impatient and easily bored with routine. You may have a tendency to shirk responsibility".



//W.H.E.R.E y.o.u S.T.A.Y?
Pin Your Location !!
//T.R.A.I.L of L.O.V.E.